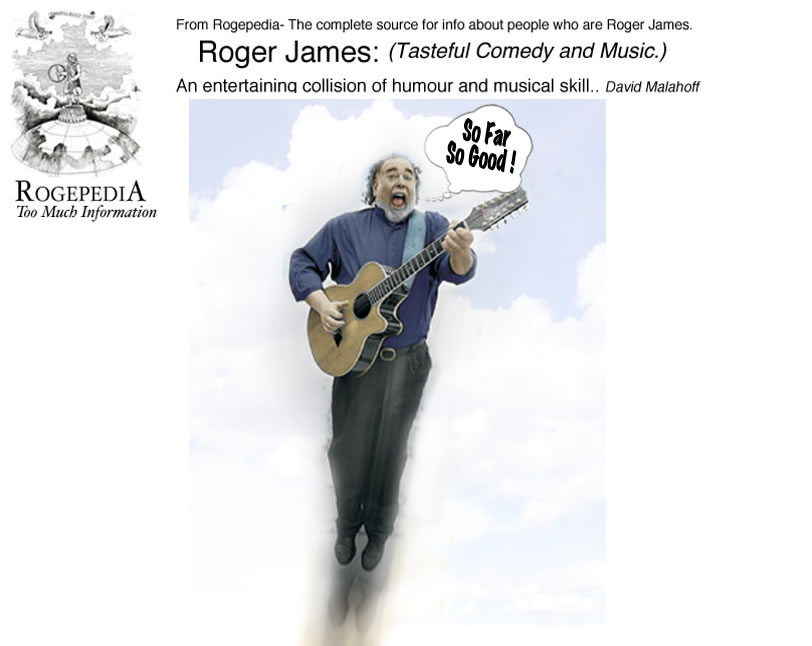 " ... charming humour, musical talent and versitality gave our event the extra ingredient it needed to put it over the top. "
Mayor Janet Gutowski Chair of the Frontenac Heritage Festival
".Roger James is a scream ... comedians have not always made the best musicians, James defies this history, he is accomplished on several
instruments.." The Ottawa Citizen
"... zany humour and impressive musical talents helped our group to gel and made our conference more memorable and engaging... a highlight of the week and helped bring the group together."
Paul Bowman, Queen's Theological College
"...He talked fast, moved
rapidly ... the crowd stormed
him back for an encore..."
Wilder Penfield III
The Toronto Sun
"Roger is the kind of entertainer that everyone loves! Whether he is performing for kids or adults, everyone is always engaged.He is one of the most versatile performers I have ever encountered. His mix of comedy, music, and a variety of instruments makes this performer one you'll want to see again and again!"
Lesley Kimble, Special Event Coordinator , City of Kingston, Recreation & Leisure Services , Community Services Group.


"He features a vast repertoire of songs and humour for all ages. Humorous songs and ,spontaneous off-the-cuff humour. A terrific banjo and guitar player, he also plays Bodhran (Irish drum) and various other instruments. Combine this with musical styles as diverse as 50's& 60s, Blues, Rock,Country, Bluegrass, Celtic and Folk and and you have a entertaining collision of humour and musical skill.
Roger performs at festivals, events, clubs, schools, conferences, fairs, on riverboats and in concert. You can also find him sharing a stage with Wendell Ferguson, comedy songwriter and award-winning guitarist, and Nancy White, comic singer-songwriter of CBC "Sunday Morning" fame. "He is possibly the most hilarious man on earth", says Nancy.
Film historians, please note, He was featured in the 2009 Bravo documentary "Voicing Irish Music" and appeared onscreen as a Fish-monger and Street Musician in the 1999 HBO movie "Vendetta". }" David Malahoff
Ask Uncle Roger- FAQ-

Q-What do you play?
A- Musical styles include-Celtic (Irish, Scottish, Downeast), 60s, 50s Bluegrass, Ragtime, Blues, Folk, Satire. Humorous songs, original and tributes to humourous songwriters such as: Tom Lehrer, Allan Sherman, Groucho, Danny Kaye, Shel Silverstein and...
Q- No, I meant what instruments do you play.
A- Oh, Guitars: 6-string,12-string, 5-string Banjo, Bodhran (Irish Drum),Bones, a bit of Celtic Harp, and Piano.

Q- What do you mean "Comedy and Music"?
A- OK, I'm playing a song, If you're laughing it's comedy, if you're not, it's music.

Q- What is a major export of Bolivia?
A- Tin

Q- How long have you been playing?
A- I started with Violin in Third grade, switched to Guitar in Sixth grade, played in High School Rock bands and a Jazz trio. 1969- Played Detroit Coffehouse circuit, Blues, Folk and Comedy, joined Irish band "Tinkers Dam" in '72,helped form "Cobblers Awl" in'74 went Solo again in'78.

Q- Have you ever had a real job?
A- No.

Q- What is the fastest land animal?
A- I don't know.

Q- Where have you played?
A- U.S., Canada, Ireland, England.Clubs, Festivals, TV, Theatre, Radio, Records, Boats, Busses, Backalleys.

Q- What is the Secret of Life?
A- Keep breathing.

An entertainer suitable for all-ages, spontaneous, interactive, comedy and humorous songs. multi-instrumentalist and singer. Compulsory fun.
"A virtuoso on the banjo."
Gene Richard, President, Kingston Musician's Union
"Could just as easily have been a doctor but nooo... "
Roger's Mother
"It was absolutely awesome, people were hugely pleased."
Daniel Fewings, OSSTF Teachers Conference, March
"Good coat, good teeth, very cooperative..." Ontario Veterinary Journal
"Roger James proves that comedians need not be offensive or insulting to
be hilarious. " Robert W. Clark, President St. Lawrence Cruise Line 2015
"...He plays a sampling of just about every musical style ever conceived,and plays them all exceptionally well..." Fanshawe College, London, Ontario

More than 5000 performances in 81 cities in Canada, USA, Ireland, and England. In concert he has appeared with: Joe Cocker, Bruce Cockburn, Murray McLauchlan, J.J. Cale, The Kingston Trio, Tommy James & the Shondells, VictorJ, and, Valdy and others
Contact- fun@rogerjames.com • Phone- 613 634 1633
"I met Roger James when I facilitated the Royal Conservatory of Music's Foundations Course sponsored by the Ontario Art's Council. Roger was a pure pleasure to work with, the perfect combination of jovial, engaged and enthusiastic! He wowed us all with his ability to combine his talents as a multi instrumentalist with his skills as an educator. I'm sure that people young and old would enjoy working with him."
Ciara Adams, LTTA, Artist-educator Mentor RCM, March, 2013

Royal Conservatory Artist-Educator Foundations Course Certified,
Listed on The Ontario Arts Council Teaching Artists Roster, 2013
Upcoming Performances-

It's the calm before the storm, a few gigs ths week then the Summer schedule starts. I'm kicking at the stall, chompin' at the bit, rarin' to go. In response to the many suggestions that I should be in a museum, I'll be doing a concert in the "Live at the Museum" series this Thursday, April 28th at the Lennox & Addington County Museum , 97 Thomas Street East, Napanee 613-354-3027, 7pm- 8:30pm.
Friday Apr. 29th, 8pm -11pm I'll be at Stonewater Gastro Pub & Cafe in Gananoque, corner of Stone and Water St. (go figure).
May- July 2016
• Tue. May 3, 8pm - 10pm The Colonial Resort and Spa ,780 King Street W Gananoque, ON, 1-800-267-9497, www.colonialresort.com
• Tue. May 5, The Royale, Kingston, On. private event
• Tue. May 10 - Kingston 1000 Islands Cruises, Lunch Cruise 12:30pm- 3:30pm, Crawford Wharf Docks. 613 549-5544 events@ktic.ca
• Fri.May 13 - Kingston 1000 Islands Cruises, Lunch Cruise 12:30pm- 3:30pm, Crawford Wharf Docks. 613 549-5544 events@ktic.ca
• Sat. May 14 - Mulberry School Fundraiser May Fair 12:30pm-1pm www.facebook.com/MulberryWaldorfSchool/
• Tue.May 17- Kingston 1000 Islands Cruises, Lunch Cruise 12:30pm- 3:30pm, Crawford Wharf Docks. 613 549-5544 events@ktic.ca

• Thurs. May 19 - St. Lawrence Cruise Lines, Montebello Passengers only event www.stlawrencerivercruise.com/
• Fri. May 20 - Kingston 1000 Islands Cruises, Lunch Cruise 12:30pm- 3:30pm, Crawford Wharf Docks. 613 549-5544 events@ktic.ca
• Tue. May 24 - Kingston 1000 Islands Cruises, Lunch Cruise 12:30pm- 3:30pm, Crawford Wharf Docks. 613 549-5544 events@ktic.ca
• Fri. May 27 - Kingston 1000 Islands Cruises, Lunch Cruise 12:30pm- 3:30pm, Crawford Wharf Docks. 613 549-5544 events@ktic.ca
• Sat. May 28, 8pm - 10pm The Colonial Resort and Spa ,780 King Street W Gananoque, ON, 1-800-267-9497, www.colonialresort.com
• Tue. May 31 - Kingston 1000 Islands Cruises, Lunch Cruise 12:30pm- 3:30pm, Crawford Wharf Docks. 613 549-5544 events@ktic.ca
• Tue. May 31 - Evening -St. Lawrence Cruise Lines, Cornwall, Passengers only event www.stlawrencerivercruise.com/
June
• Sat. June 4 - Stonewater Pub 8:00 - 11:00 pm, 490 Stone St. (at Water St.) Gananoque, ON, in The 1000 Islands. B&B- 613-382-2542 Pub- 613-382-2116 www.stonewaterbb.com/
• Mon. June 6 - St. Lawrence Cruise Lines, Ivy Lea, Passengers only event www.stlawrencerivercruise.com/
• Tue. June 7 - Kingston 1000 Islands Cruises, Lunch Cruise 12:30pm- 3:30pm, Crawford Wharf Docks. 613 549-5544 events@ktic.ca
• Wed. June 8 - Fox Run by the River Gananoque, ON, Private event
• Wed. June 8 - Evening -St. Lawrence Cruise Lines, Brockville, Passengers only event www.stlawrencerivercruise.com/
• Fri. June 10 - Kingston 1000 Islands Cruises, Lunch Cruise 12:30pm- 3:30pm, Crawford Wharf Docks. 613 549-5544 events@ktic.ca
• Tue. June 14- Kingston 1000 Islands Cruises, Lunch Cruise 12:30pm- 3:30pm, Crawford Wharf Docks. 613 549-5544 events@ktic.ca
• Fri. June 17 - Kingston 1000 Islands Cruises, Lunch Cruise 12:30pm- 3:30pm, Crawford Wharf Docks. 613 549-5544 events@ktic.ca
• Fri. June 17 - Evening -St. Lawrence Cruise Lines, Brockville, Passengers only event www.stlawrencerivercruise.com/
• Sun. June 19, Fruition Strawberry Festival , Fruition Berry Farm, 10am- 4pm, 3208 Hughes Road, Kingston 613-548-3378
• Tue. June 21- Kingston 1000 Islands Cruises, Lunch Cruise 12:30pm- 3:30pm, Crawford Wharf Docks. 613 549-5544
• Wed. June 22 - Evening -St. Lawrence Cruise Lines, Ivy Lea, Passengers only event www.stlawrencerivercruise.com/
• Fri. June 24 - Evening -St. Lawrence Cruise Lines, Brockville, Passengers only event www.stlawrencerivercruise.com/
• Sat. June 25 - Kingston 1000 Islands Cruises, 2pm- 5pm, Crawford Wharf Docks. 613 549-5544 events@ktic.ca
• Tue. June 28- Kingston 1000 Islands Cruises, Lunch Cruise 12:30pm- 3:30pm, Crawford Wharf Docks. 613 549-5544 events@ktic.ca
July -
• Fri. July 1, , City of Kingston Canada Day Festival, Time of performance TBA, MC all day 11am-5:30pm
Grass Creek Park, Kingston,sueh@cityofkingston.ca
• Sat. July 2- Kingston 1000 Islands Cruises, 2 Cruises: 10am - 1pm and 2pm - 5pm, Crawford Wharf Docks. 613 549-5544 events@ktic.ca
•Sun July 3, RibFest Gananoque 1pm- 2pm http://www.gananoquerotaryclub.com/
• Tue. July 5- Kingston 1000 Islands Cruises, Lunch Cruise 12:30pm- 3:30pm, Crawford Wharf Docks. 613 549-5544 events@ktic.ca
• Thurs. July 7- Evening -St. Lawrence Cruise Lines,Coteau Landing,Quebec Passengers only event www.stlawrencerivercruise.com/
• Fri. July 8 - Kingston 1000 Islands Cruises, Lunch Cruise 12:30pm- 3:30pm, Crawford Wharf Docks. 613 549-5544 events@ktic.ca
• Tue. July 12 - Kingston 1000 Islands Cruises, Lunch Cruise 12:30pm- 3:30pm, Crawford Wharf Docks. 613 549-5544 events@ktic.ca
• Fri. July 15 - Kingston 1000 Islands Cruises, Lunch Cruise 12:30pm- 3:30pm, Crawford Wharf Docks. 613 549-5544 events@ktic.ca
• Sat. July 16 - Kingston 1000 Islands Cruises, 2pm - 5pm, Crawford Wharf Docks. 613 549-5544 events@ktic.ca
• Sun. July 17 - Kingston 1000 Islands Cruises, 2pm - 5pm, Crawford Wharf Docks. 613 549-5544 events@ktic.ca
• Mon. July 18- Evening -St. Lawrence Cruise Lines, Ivy Lea, Passengers only event www.stlawrencerivercruise.com/
• Tue. July 19- Kingston 1000 Islands Cruises, Lunch Cruise 12:30pm- 3:30pm, Crawford Wharf Docks. 613 549-5544 events@ktic.ca
• Wed. July 20- Evening -St. Lawrence Cruise Lines, Brockville, Passengers only event www.stlawrencerivercruise.com/
• Fri. July 22 - Kingston 1000 Islands Cruises, Lunch Cruise 12:30pm- 3:30pm, Crawford Wharf Docks. 613 549-5544 events@ktic.ca
•Sat. July 23- Tentative TBA
• Tue. July 26- Kingston 1000 Islands Cruises, Lunch Cruise 12:30pm- 3:30pm, Crawford Wharf Docks. 613 549-5544 events@ktic.ca
• Fri. July 29 - Kingston 1000 Islands Cruises, Lunch Cruise 12:30pm- 3:30pm, Crawford Wharf Docks. 613 549-5544 events@ktic.ca
• Fri. July 29 - Evening -St. Lawrence Cruise Lines, Brockville, Passengers only event www.stlawrencerivercruise.com/
• Sat. July 30 - Kingston 1000 Islands Cruises, 2pm - 5pm, Crawford Wharf Docks. 613 549-5544 events@ktic.ca